Some people have the habit of overeating and it has been discovered that many of those who habitually overeat actually have a clinical disorder called binge eating disorder (BED). People with B.E.D compulsively eat large amounts of food in a short amount of time and feel guilt or shame while some end up paying the ultimate price for been a glutton and actually die.
Adolph Frederick Of Sweden Is Known As The King Who Ate Himself To Death. He was born on the 14th of May 1710, in Gottorp, Schleswig, Germany. His father was Christian Augustus of Holstein-Gottorp-Eutin, who belonged to the House of Holstein-Gottorp, while his mother was Albertina Frederica of Baden-Durlach.
Adolf Frederick was a younger son and was not really expected to inherit his father's titles. Indeed, when Christian Augustus died in 1726, he was succeeded by Charles Augustus, his eldest son. Charles Augustus died in the following year, and as he was childless, was succeeded by Adolf Frederick
Adolph Frederick lived during the 18th century and although Adolf Frederick ruled Sweden for almost 20 years, it was unremarkable and nothing of great note took place during his long reign.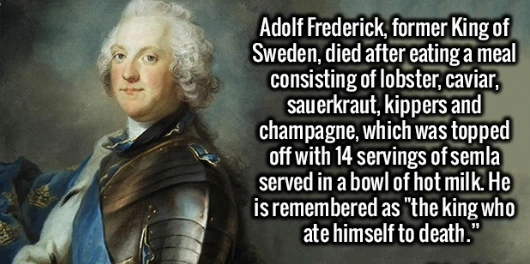 Adolf Frederick died on the 12th of February 1771, at the age of 60. The day of his death was Fettisdagen (literally meaning 'Fat Tuesday'), the Swedish equivalent of Shrove Tuesday. Considering the fact that the following day would be the beginning of Lent when the religious fasting will commence, the king decided to have a huge meal the night before.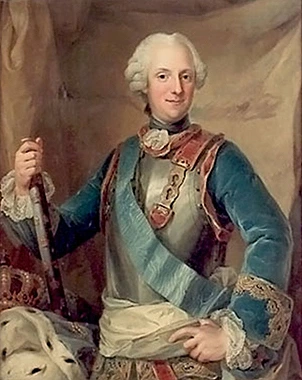 History had it that the king feasted on lobsters, caviar, sauerkraut, kippers, and champagne. Additionally, the king devoured 14 servings of semla, a sweet roll filled with cream traditionally eaten in Sweden on Fettisdagen. Adolf Frederick died shortly after this sumptuous last meal and it is often thought that it was the dessert that caused his death.